Prosthetics and Artificial Limbs in Utah
Fit-Well prides itself on an employee certified staff in Prosthetics allowing for the provision of the following services: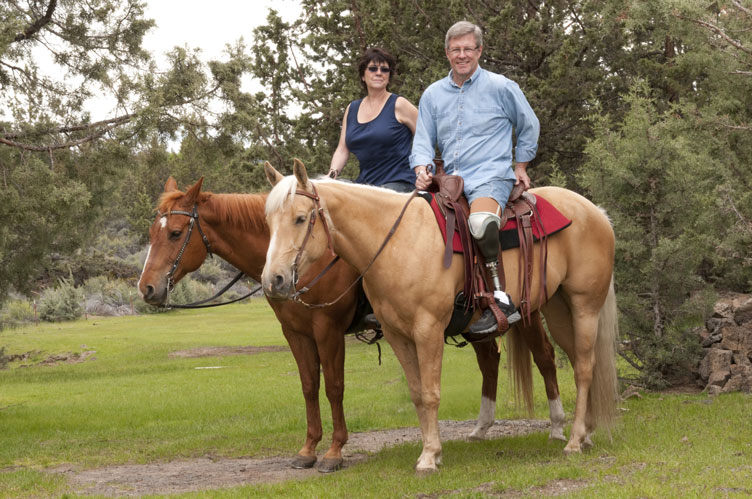 As long as man has been on the earth, there has been a need to restore lost limbs. Disease, birth defects, accident and war are some of the common ways that individuals acquire a need for prosthetics. The desire to completely restore the function of a missing limb has always been one of man's greatest quests. Whatever the cause of limb loss, the search for functionality has been the reason for so many great advances through the centuries.
Modern advances have produced electronic devices that pick up the signal from the nervous system through the muscles. These devices operate electronic arms, elbows, and wrists that mimic natural limbs. New materials have allowed prosthetic legs and feet to store energy. The major capability of this new design is its ability to adapt to uneven terrain. This allows the patient to run and play sports. It also enables more adjustability to any particular individual. New understanding and advances have produced materials that provide the patient with more comfort than ever before. These materials include cad-cam, silicones, and foam / composites for increased strength and lighter weight.
Fit-Well Prosthetics and Orthotic Center® has been a leader in the industry since 1908. We have stayed on top of technological advances and breakthroughs in order to better serve our patients. The patient's needs, desires, wants, and concerns have made the prosthetic and orthotic industry what it is today. Fit-Well's success is measured by the ability to listen and communicate better than anyone.
Upper and Lower Extremity Prosthetics
Fit-Well has long been a manufacturer and fitting facility of all types of upper and lower extremity prosthetics; from the replacement of fingers, hands, wrists, forearms, upper arms, shoulders, and interscapular-thorasic to partial toes, partial feet, ankles, below knee, through knee, above knee, hip-disartic, and hemipelvectomey.
The socket is the foundation of a patient's comfort, and the patient's comfort is the foundation for all activities of their life. A prosthesis can have all the latest specialized high-tech features and components, but if the socket does not feel comfortable and fit accurately, the patient will not be as active as they would like to be.
We stay up to date with the latest technology to provide our patients the best possible care, service, and function available. The fitting experience, developed with new technology, along with the many years of experience that has been handed down from former Fit-Well practitioners, allows us to be able to solve any difficult fitting issues. Some patients may be categorized as "difficult-to-fit." these may include hemi-pelvectomy, hip disarticulation and shoulder disarticulation patients, as well as those with high-level above-knee or above-elbow amputations. Other unique situations may categorize a person "difficult-to-fit". Working with patients who face these challenges is one of the things we do best. If you are faced with a challenging fit, we want to face it, and work with you. We believe you can have a comfortable prosthesis. Fit-Well prides itself on our service to our patients and their physicians, making a successful team approach to the fitting of prosthetic devices.
Myoelectric Prosthetics
People without an arm or hand due to birth, disease or trauma have more prosthetic options to consider than ever before.
The conventional or body-powered prosthesis uses a harness to suspend the arm and fastens around the patient's upper torso. A cable extends from the harness to a mechanical hand, hook or elbow; exaggerated movements by the upper body activate the cable, which controls the prosthesis.
Myoelectric systems eliminate body powered cables, letting the amputee move the arm and hand slow or fast, light grip or strong grip in any position. This provides a more natural response with less effort than the traditional Mechanical systems. Myoelectric systems increase mobility and allow any patient to achieve maximum function, including transhumeral, forequarter amputees and shoulder disarticulation. Combined with high performance hand control, the wearer is provided superior cosmetic appearance. Smooth exterior hand covers provide a natural look. For rugged tasks, the hand can be changed to another work hand or electronic terminal device.
Our upper-extremity specialists are dedicated to helping you discover the combination of componentry that will best meet your needs.
The socket is the critical first component in all our upper extremity prosthetic designs. Each socket is custom contoured to fit the bone, muscle, vascular and nerve areas of the residual limb. The result is a socket that has total contact and even pressure with all the surfaces of the residual limb. That means greater comfort, increased muscle function, better suspension and greater range of motion.
At Fit-Well we feature ultra-light, cutting edge prosthetics. All the equipment necessary to create these advanced prosthetics are located on-site in our fabrication lab. This is the heart of our facility– where innovation and technology merge to create superior products.
Hybrid Prosthetics
Hybrid Prosthetics are the combining of multiple systems to achieve the goals and need of our patients. Some patients require the elevated vacuum system and an additional locking mechanism to add security during certain activities such as rock climbing or washing windows on a high rise building. Others need sealing sleeves added to a locking mechanism to keep out dirt and mud during Spartan races and military training. Some bilateral arm amputees would like to shoot pistols as a hobby. Our staff is dedicated to first listen to the needs, desires, and expectations of the patient and then work together to come up with a solution to make it all happen.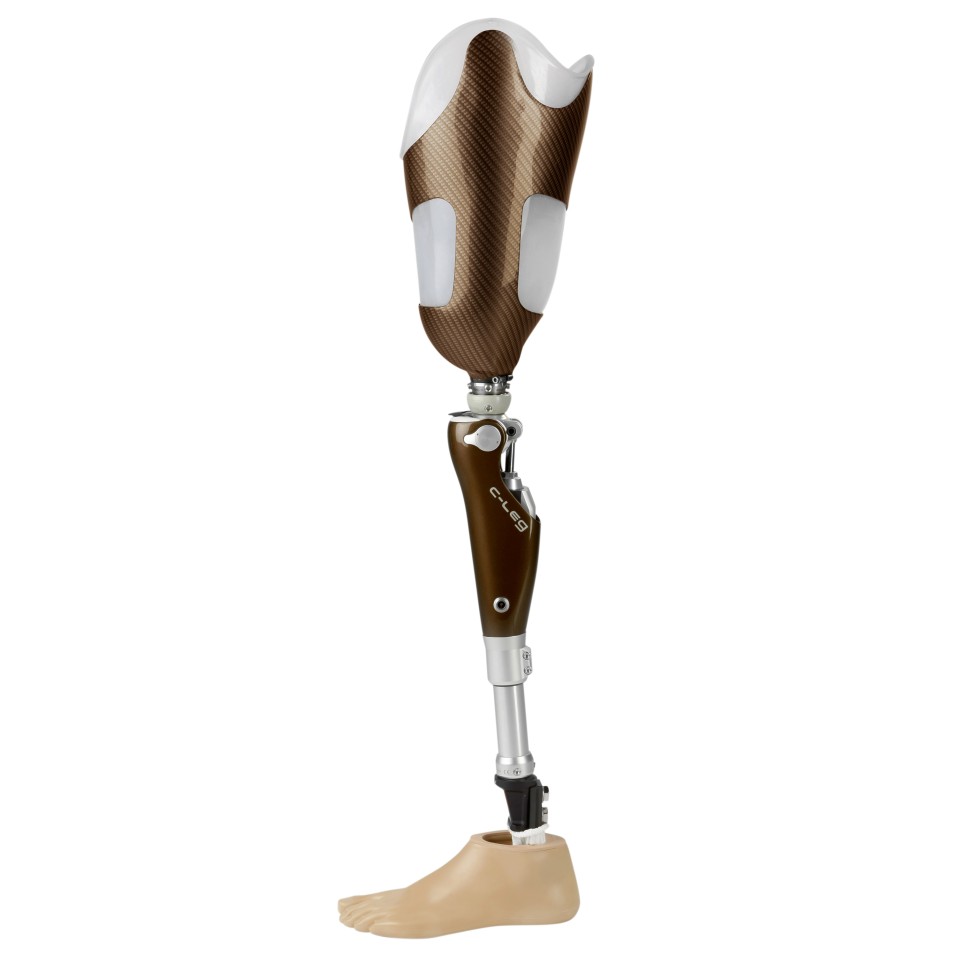 Microprocessor Controlled Lower Extremity Prosthetics
The microprocessor monitors and adapts to the patient's gait, and various terrains many times per second. With traditional prosthetic knee joints, patients have to think—and sometimes worry—about each step they take. With Microprocessor controlled prosthetics, patients can now move more freely in everyday situations; speeding up or slowing down, crossing slopes, climbing stairs, or walking on uneven ground. The microprocessor provides stance resistance until it senses that the patient is biomechanically safe. This is particularly useful for stepping down from a vehicle, walking down ramps, stepping off curbs, or going down stairs.
The microprocessor also provides a feature known as stumble recovery, which protects the patient if the foot catches on the ground or a sudden stop in motion occurs. For example, if the patient is walking and has to stop for a car, or an object is placed in their path and the knee is suddenly partially bent, the stance control activates and the knee will not buckle. The patient would be able to recover with their sound leg and regain their balance. This provides for a much safer prosthesis, reducing the potential for falling while allowing the patient to perform activities such as descending stairs foot over foot, and walking down inclines without the fear of the knee buckling on them.
The stability of the microprocessor control, equals optimal safety and ease of swing; this creates a smooth, balanced movement which imitates the movements of the individual's sound leg. In addition, the computer allows the patient to walk with a flexed knee much like how the human limb ambulates. This reduces the shock that is transferred from heel strike up through the prosthesis into the hip socket and lower back. It also produces a symmetrical gait that matches the human limb's locomotion, which is that it flexes at the knee joint when the heel is placed on the ground.
Microprocessor controlled prosthetics have been very successful on all levels of above knee, hip disartic, and hemipelvectomy amputations, even allowing the hip and hemipelvectomy patients to go down stairs foot over foot and have increased safety and stability. Our patients have reported that their incidences of falling have been reduced and their confidence has increased, allowing them to enjoy a more active lifestyle.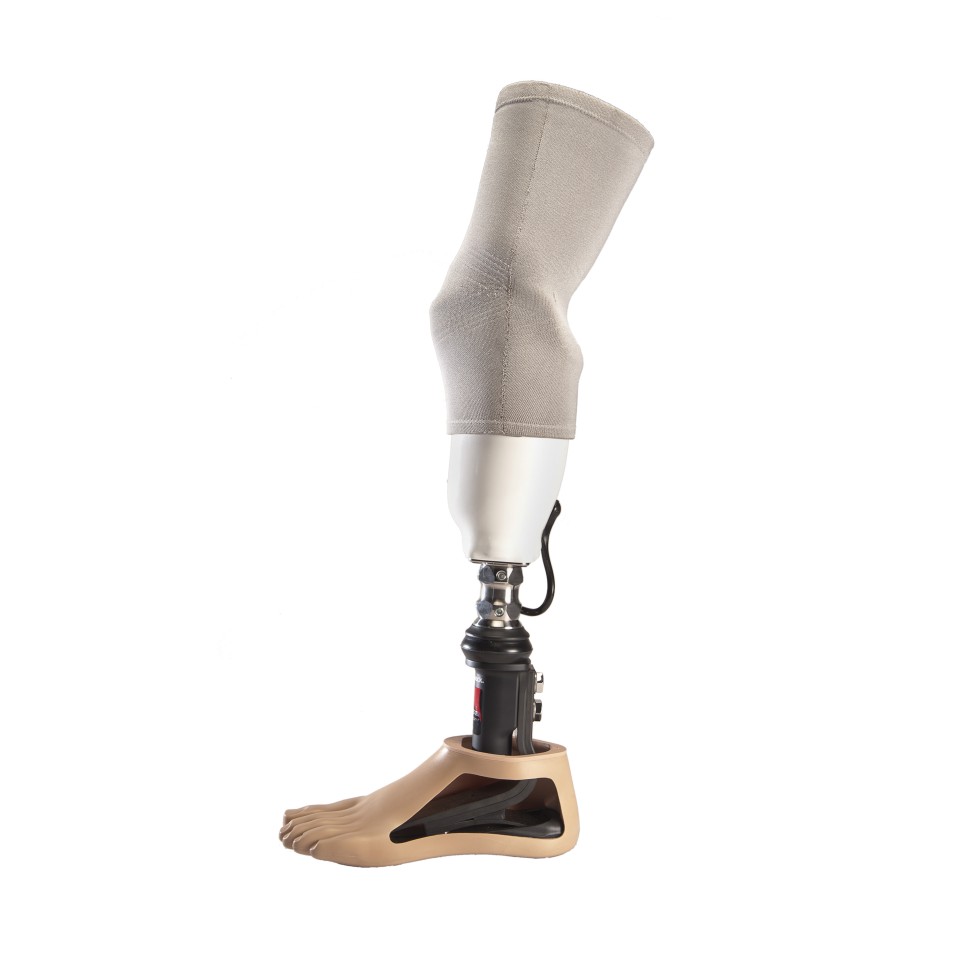 Elevated Vacuum Assisted Socket System
Possibly the most important breakthrough in prosthetics suspension ever, the Elevated Vacuum System incorporates a vacuum pump that vacuums out the air in the socket through airlines. A one-way valve keeps the air from coming back into the socket. This is the most secure system ever available for prosthetics; there is absolutely no movement between the prosthesis and the residual limb. It also has the advantage of removing moisture from perspiration out from the socket as it continues to vacuum out the air, which helps keep the skin dry. In addition, the daily volume fluctuations of the residual limb are reduced to being almost non-existent. This means that once your prosthesis fits well in the morning, it will stay that way all day long without the need to add additional socks to tighten up a loose socket. A very high success has been achieved with this system worldwide and our patients have reported improved socket comfort!
Pediatric Prosthetics
Fit-Well has long specialized in and enjoyed working with children. The unique requirements that are required to fit birth deformities and adjust the fit as the child continues to grow have been acquired and passed down through many generations of Fit-Well practitioners. Our staff has helped many children progress through the activities of childhood play, go on to high school cheerleading and playing sports to college careers such as police officers.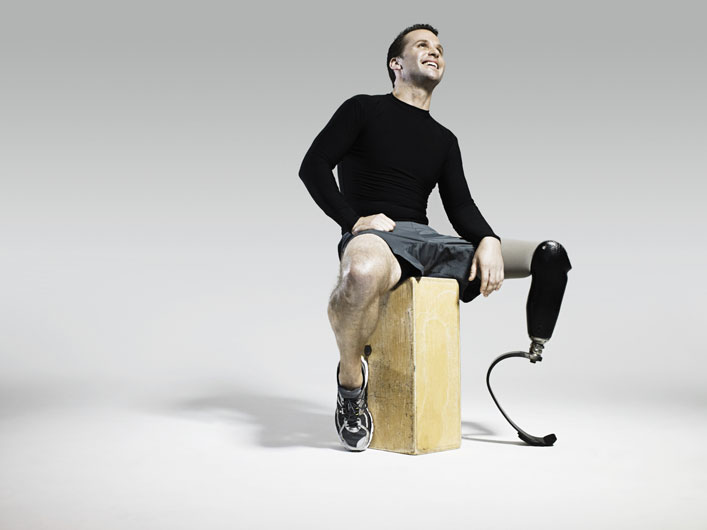 Ultralight Prosthetics
We use Ultralight, ultra-strong materials in the manufacturing of our prosthetics. Titanium and Carbon fiber provide increased strength and unsurpassed durability, while allowing the prosthesis to be extremely lightweight. This allows our patients to be more active, enjoy sports, and wear their prosthesis longer without becoming fatigued, thus enhancing their quality of life. 
Sport Prosthetics
Sport prosthetics are very specialized depending on the particular activities in which the patient will participate. Sprinting requires a foot with no heel and shaped to provide as much spring return as possible. Jogging would require a shape that not only returns energy but also absorbs shock at impact of the foot. Basketball requires the same as jogging, but with the additional capabilities of allowing the foot to bend and twist. For arm amputees there are special attachments for bowling, archery, fishing, weight lifting and other various activities. Fit-Well has helped patients to compete in high school, college, minor league professional sports and in the paralympics.